Our Team
Our dream team has 105 combined years of practice.
We seriously have fun, and have fun seriously. Together, we continually improve our dental education throughout the United States to better serve our patients.
Dr. John Stangl
Doctor of Dental Surgery
Dr. John Stangl was born and raised in Brooklyn Park, Minnesota. He completed his undergraduate degree at the University of Minnesota Duluth in 1984 and then completed Dental School at the University of Minnesota in 1988. Dr. Stangl has been practicing dentistry in Buffalo for 26 years.
He has a strong interest and passion for humanity and enjoys giving back to the community. Dr. Stangl serves on the dental education board at St. Cloud Technical/Community College, provides Donated Dental Services, and participates in the annual Give Kids A Smile Day and Team Smile.
Dr. Stangl is also a member of the Minnesota Dental Association, the American Dental Association, and the Minneapolis District Dental Society.
Dr. John Stangl has been married for 29 years and has 3 children, two of which are currently pursuing careers in dentistry. He has a true passion for dentistry and loves all outdoor activities!
Dr. Cassie Grean
Dr. Cassie Grean grew up in Fridley, Minnesota. She completed her undergraduate degree at Gustavus, and then went on to dental school at the Univeristy of Minnesota. She has been practicing dentistry in Maple Grove, Minnesota. She is so excited to serve her community here in Buffalo and to join the amazing team at Buffalo Family Dentistry.
Dr. Grean lives in Buffalo with her husband, yellow lab Gus, and brand new baby Bennett. Outside of the office Dr. Grean enjoys fitness, outdoor activities, reading a good book and baking cookies. However recently, she most enjoys spending time with her growing family.
Dr. Grean is a member of the American Dental society, Minnesota Dental Association, and Minneapolis District Dental Society. She loves to server her community and participates in Give Kids a Smile, Operation Grace, Mission of Mercy and has volunteered in Guatemala.
Dr. Grean can't wait to get to know you, the patient, and share more about herself and her passion for dentistry.
Pam & Lisa
Registered Dental Hygienists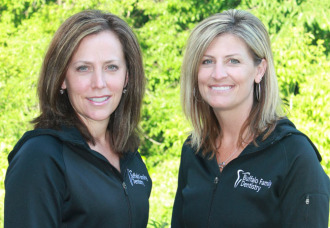 Angie, Natalie & Sandra
Registered Dental Assistants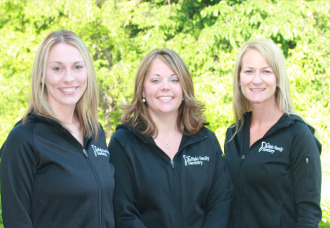 Joelle & Carol
Business Assistants